DSJ3 - Overview

Deluxe Ski Jump 3 is an addictive ski jumping game in full 3D graphics.
Compete with all your friends at 40 unique hills in the world cup or team cup events. You can jump on snowy winter hills as well as on plastic covered summer hills.
In DSJ3 Online you can jump and chat in real time with other ski jumping fans from all around the world.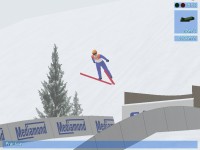 The ski jumping is modeled precisely according to real world physics. You control the ski jumper's movement intuitively with sensitive mouse controls.
There are ten different zoomable camera views from which you can watch your jump. In replay mode the jump can be analyzed in slow motion or frame-by-frame.
DSJ3 is easy to learn yet hard to master. Successful playing requires a steady mouse hand, quick reflexes and ability to fully utilize the air flows. If you are good enough you can even make it to the web based DSJ3 ranking lists.
Download Free Demo!
Buy Full Version!
Subscribe to DSJ3 Online!