DSJ2 - Overview

Deluxe Ski Jump 2 is the second title in Mediamond's legendary series of DOS-based ski jumping games.
If your computer does not meet the hardware requirements for DSJ3 you should try this game instead.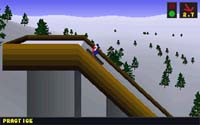 DSJ2 comes with 32 hills. The available game modes include world cup, team cup and practicing. DSJ2 supports replays and web-based hill records. Up to 16 players can play DSJ2 simultaneously.