DSJ4 - Overview

Deluxe Ski Jump 4 is an addictive, physics-based, ski jumping game.
Gameplay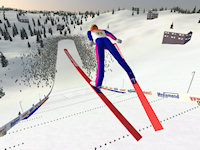 You control the movement of the ski jumper with intuitive mouse controls.
First you have to do a well-timed and powerful takeoff, then find the most aerodynamic flight angles, and finally make a smooth telemark landing to please the judges.
All your movements are simulated accurately according to real-world physics.
Offline Game
The offline game has three different game modes: practice mode, world cup mode, and team cup mode. In practice mode you can train jumping freely from different start gates in different wind conditions. Once you know the tricks you can invite all your friends to compete in world cup and team cup hot-seat modes. You can also jump against CPU players with adjustable skill levels.
Online Game
The online game brings together ski jumping fans from all around the world. You can compete in non-stop world cup and team cup events and in scheduled weekly tournaments. If you are tough enough you can also take part in monthly Marathon tournaments.
Hill Records Database
You can submit your online/offline hill records and replays of your best jumps to the global hill records database to see how you rank compared to others. The replays of other players' best jumps can be easily browsed and viewed direcly in the game.
Custom Outfits & Bibs
You can style the ski jumpers with custom textures and lots of coloring options. It's also possible to design your very own competition bibs!
Hills
All the hills are modelled faithfully according to their real-world counterparts.
The current version comes with the following hills:
Bad Mitterndorf HS200
Bischofshofen HS78
Bischofshofen HS142
Engelberg HS137
Garmisch-Partenkirchen HS142
Harrachov HS205
Klingenthal HS140
Kuopio HS127
Kuusamo HS142
Lahti HS130
Lillehammer HS100
Lillehammer HS140
Oberstdorf HS213
Park City HS100
Park City HS134
Planica HS215
Sapporo HS134
Val di Fiemme HS104
Val di Fiemme HS135
Villach HS98
Willingen HS147
Wisła HS134
Zakopane HS94
Zakopane HS134

Custom Hills
Visit DSJ4 Hills Database to download 1000+ hills created by other players! The site contains also info how to create your own hills.
Download Free Demo!
Buy Full Version!
Subscribe to DSJ4 Online!