Company Overview

Mediamond Tmi is a Finnish software company specialized in producing captivating, high-quality downloadable games. Mediamond was founded and is run by Jussi Koskela. Since the founding in March 2000, Mediamond has developed and released four titles in the much-acclaimed Deluxe Ski Jump series.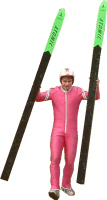 Jussi Koskela, M.Sc. (Tech.), is a 43-year old software entrepreneur. On his free time, Jussi enjoys jogging, going to gym and playing board games.
Read about Jussi's first real ski jumping experience and see the video!
Mail:
Mediamond Tmi
Ullantorppa 4 A 9
FI-02750 Espoo
FINLAND
E-mail:
info@mediamond.fi
Website:
www.mediamond.fi
Business ID
1588646-5

EU VAT Number
FI15886465

UK VAT Number
341 6394 04